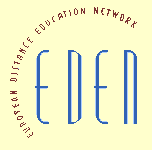 EUROPEAN DISTANCE EDUCATION NETWORK
SIXTH ANNUAL CONFERENCE
"OPEN AND DISTANCE LEARNING IN THE '90s: ACHIEVEMENTS AND PERSPECTIVES"
23-25 June 1997, Technical University of Budapest, Hungary
---
Budapest will be the venue of EDEN's seventh annual conference, and marks the return of EDEN to its beginning, when, in May 1990, shortly after the momentous political changes in Central and Eastern Europe, the Technical University of Budapest hosted the first pan-European meeting of distance educators. This meeting launched the Budapest Platform, which was EDEN's predecessor. During the 1990s, significant processes and changes have occurred in open and distance learning characterised by its expansion, diversification and the rapidly increasing recognition of ODL alongside mainstream education. International co-operation and the growing impact of advanced technology have also been key features in ODL. This conference in Budapest offers a possibility to summarise the considerable achievements of ODL in this decade, identify the main changes and trends, and look forward to future developments and objectives.
-Announcements and communication
2nd Announcement and Registration Information
-About earlier conferences...
-For more information on the EDEN conference, please link to...

EDEN Home Page

EDEN Central and Eastern European Secretariat Home Page
-Or send an e-mail to
János Vad, EDEN Central and Eastern European Secretariat assistant
Technical University of Budapest, Department of Fluid Mechanics
Bertalan L. u. 4-6, Budapest 1111, Hungary
Phone: +36 1 463 4072
Fax: +36 1 463 3464
-For registration, please contact
Ms Judy Frankl, EDEN Executive Secretary
PO Box 92, Milton Keynes MK7 6DX, United Kingdom
Phone: +44 1908 654147
Fax: +44 1908 654374
---